Are you wondering what we can do for your smile? We invite you to browse our before and after photos of actual patients to get a glimpse of amazing smile transformations!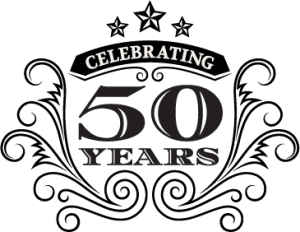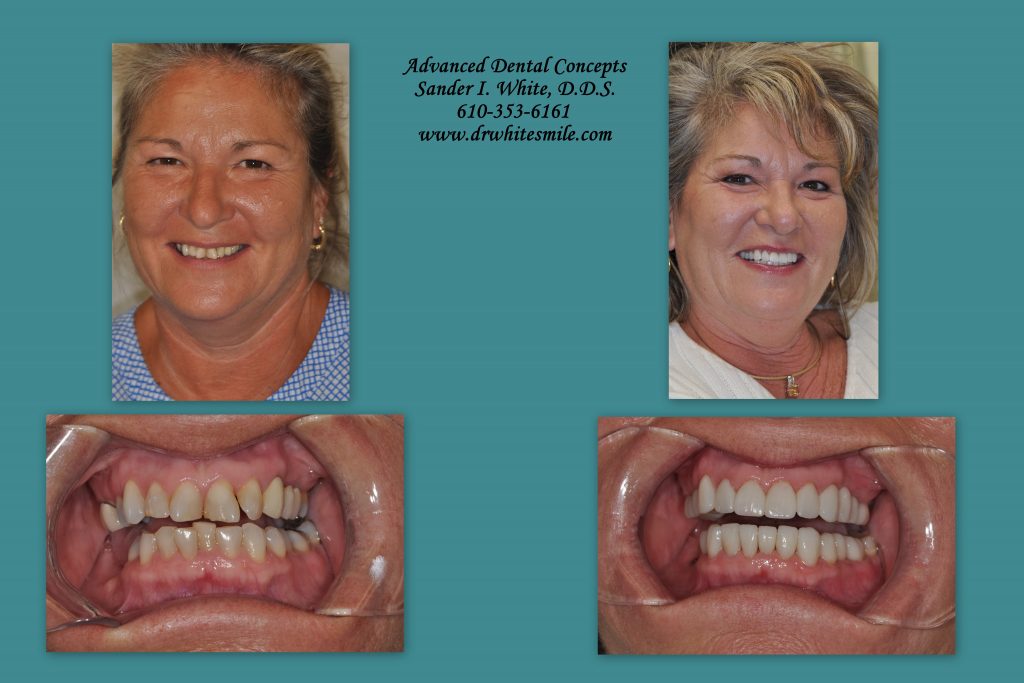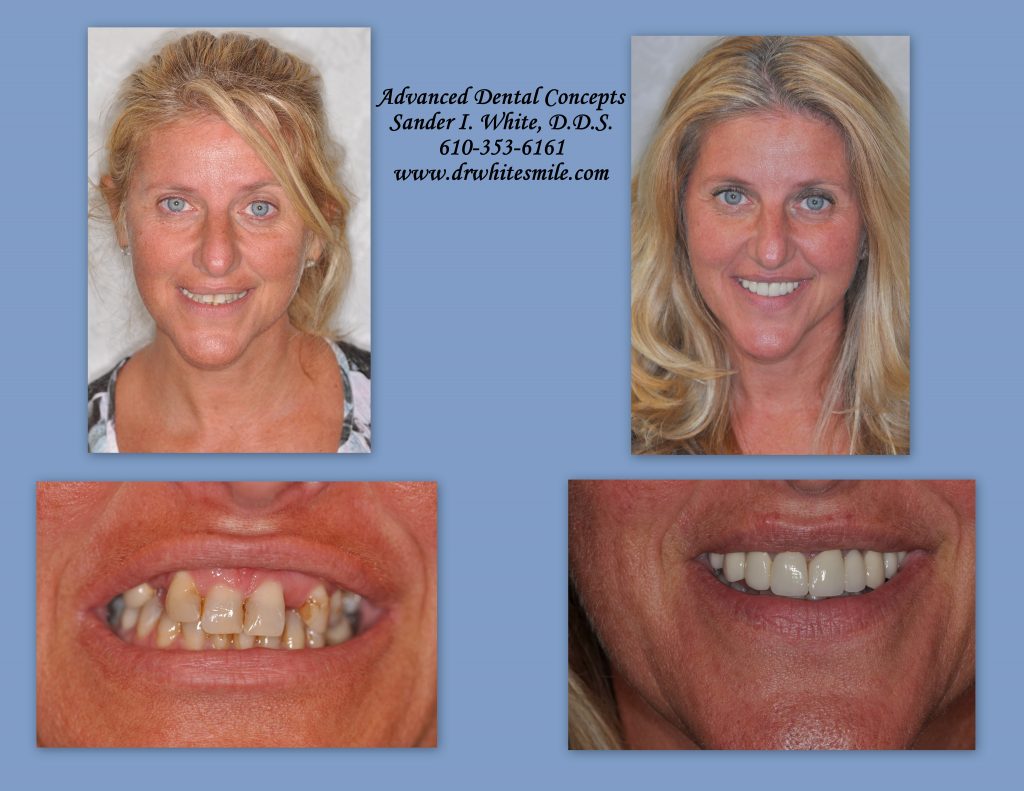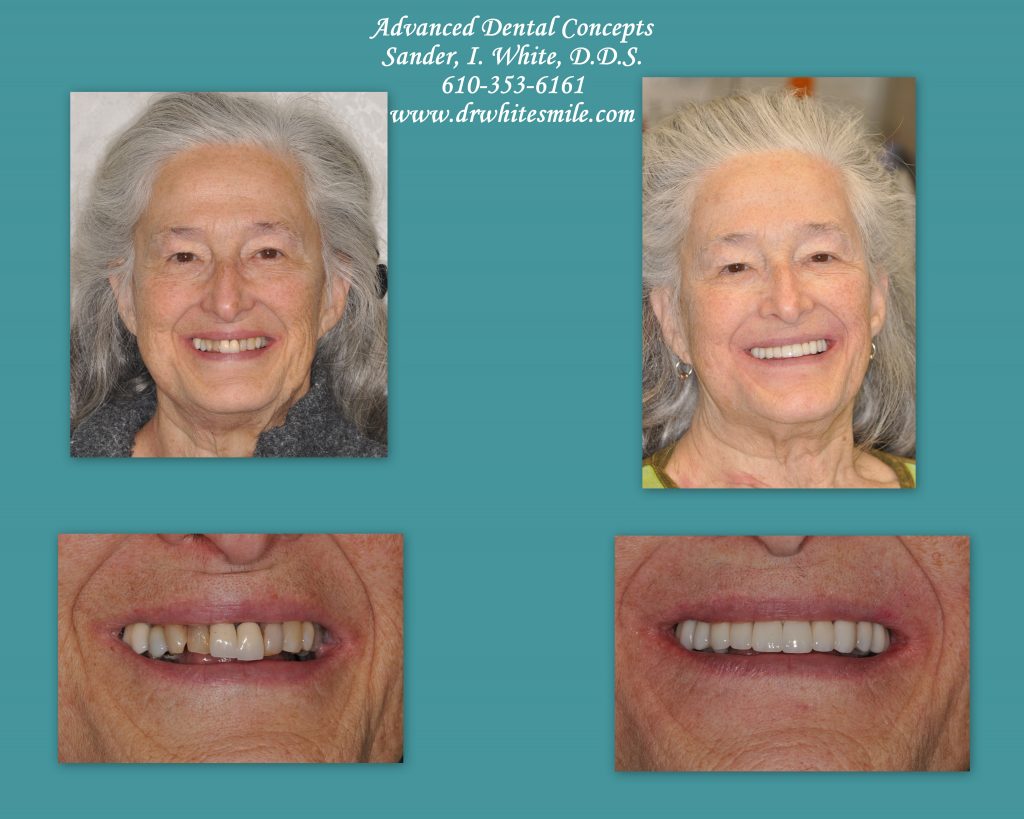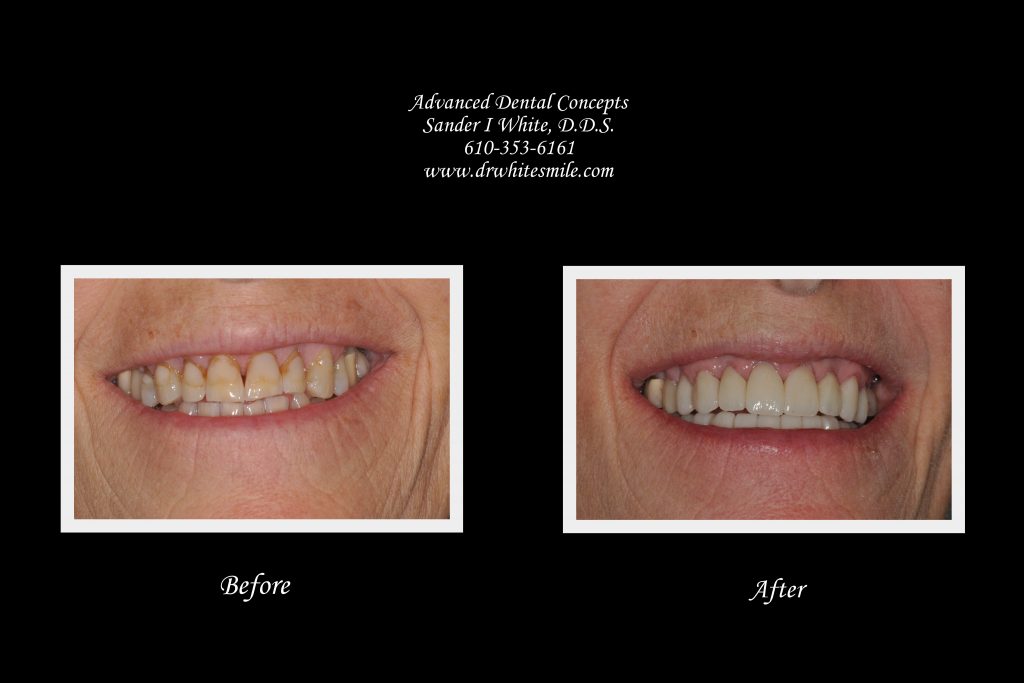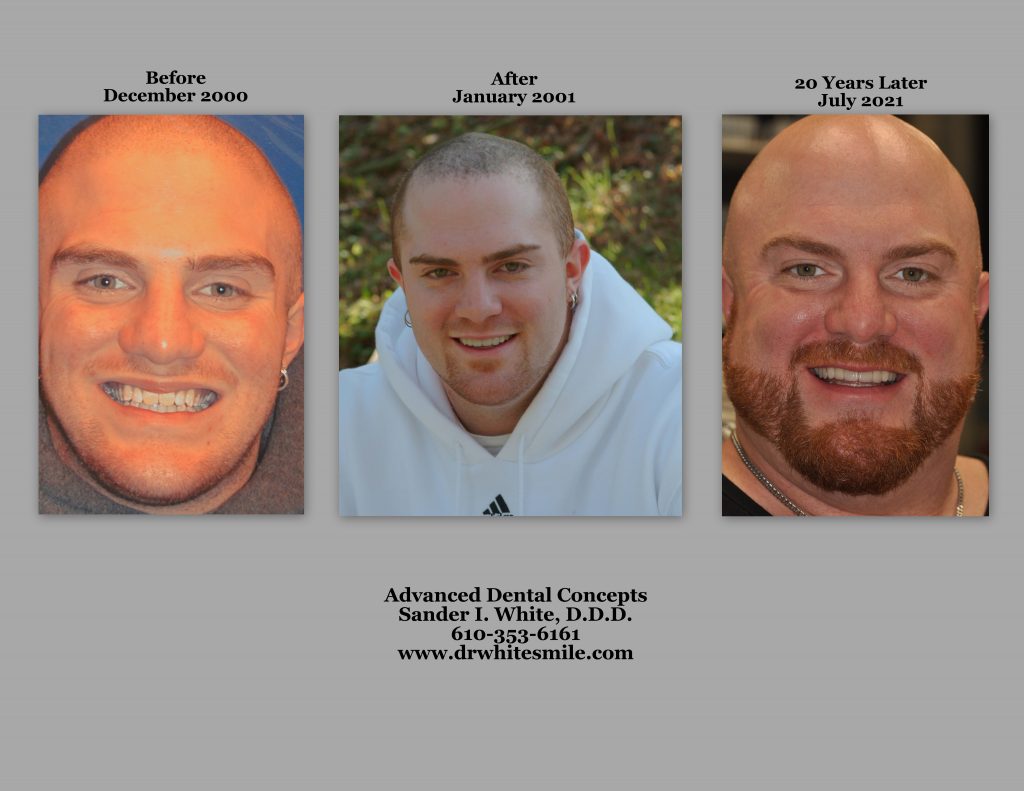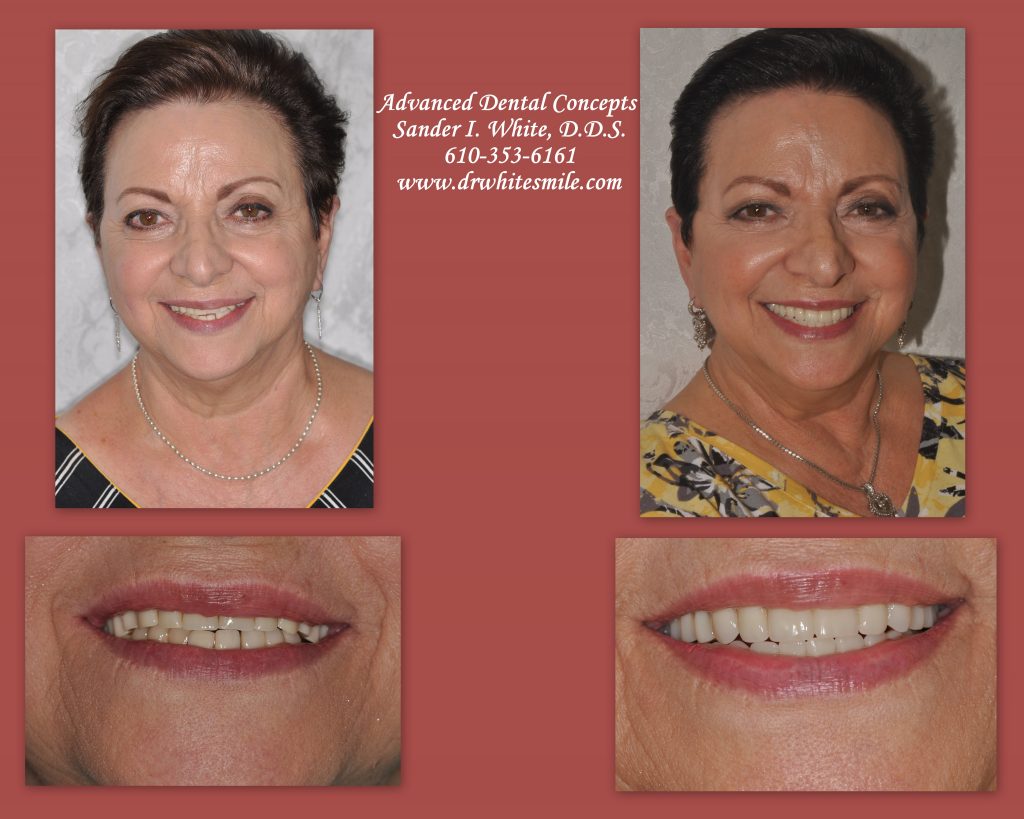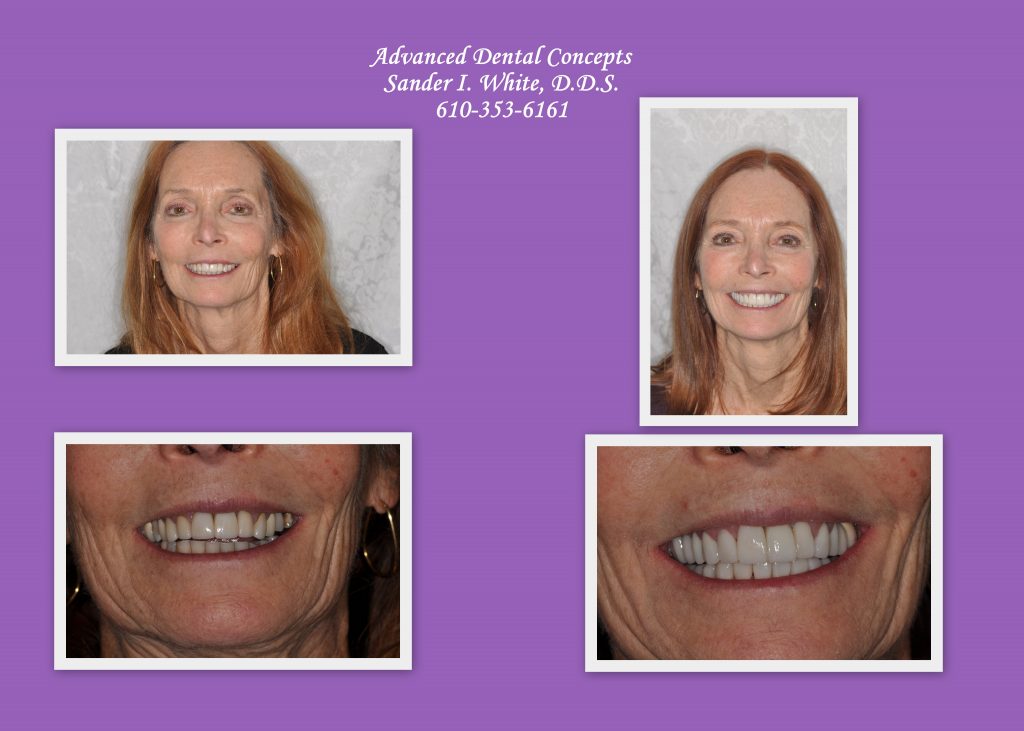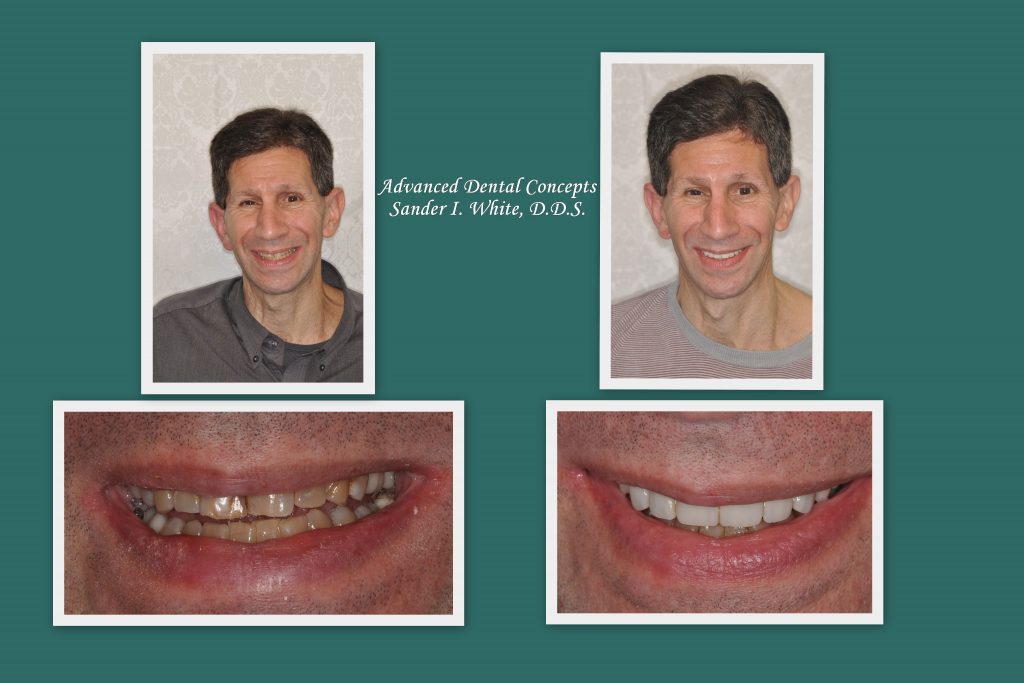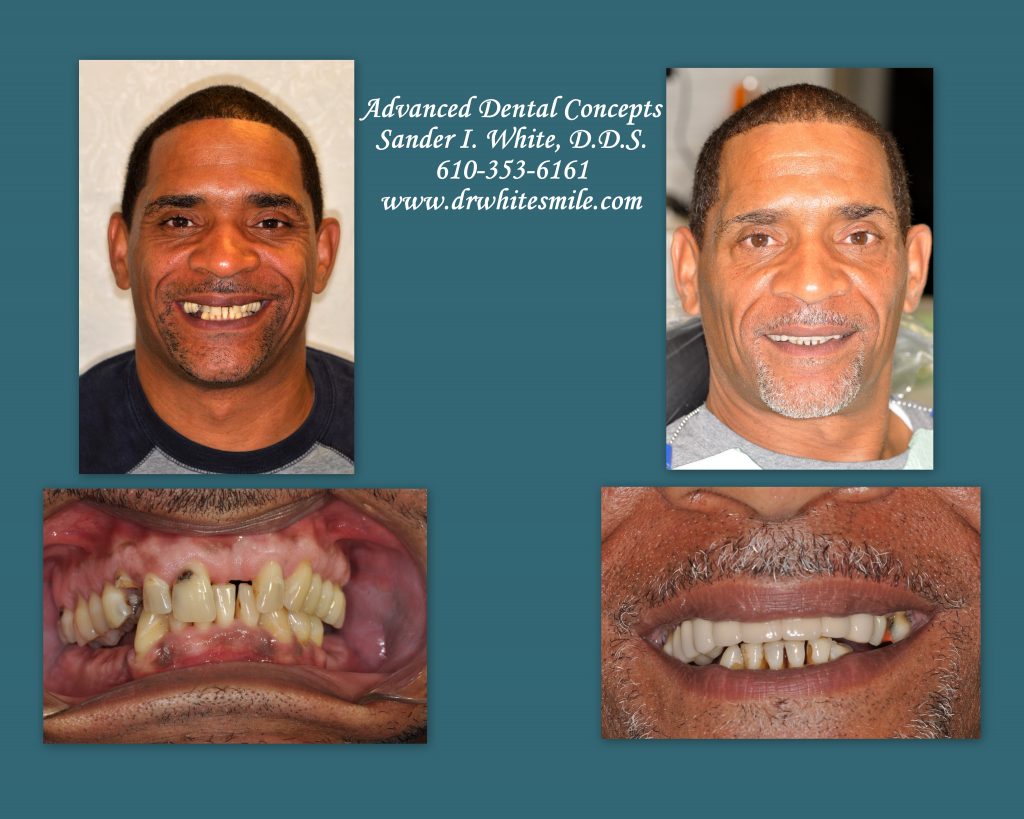 Before
After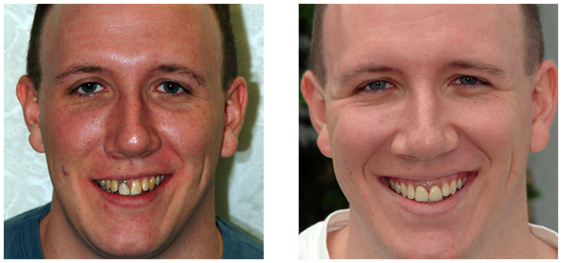 Some cases can be improved with a minimum of treatment. The important thing is to be able to see the potential beauty in every smile and know how to bring it out to its best advantage. We made the gums healthy so they didn't look red anymore, and we replaced the discolored tooth with a beautiful porcelain crown to create this now handsome smile.
Before
After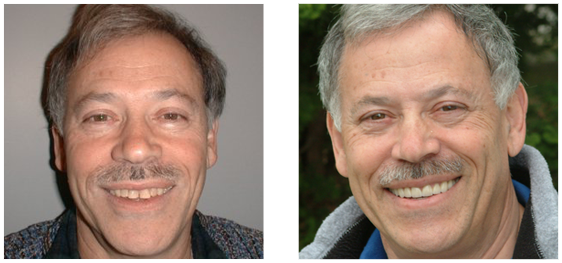 Years of neglecting a bad bite caused this person to wear down, chip and break a lot of teeth. Repairing these breaks and improving the bite fixed the structural problems, while gleaming new porcelain crowns and veneers restored a healthy and handsome smile.
Before
After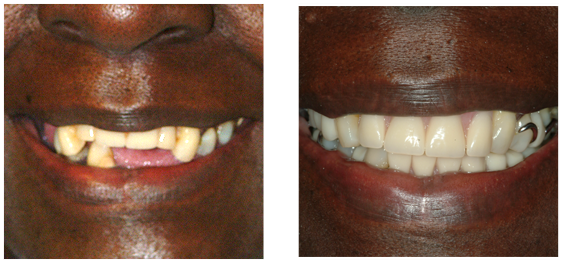 Missing and crooked teeth destroyed the smile in this woman. Restoring healthy gums and replacing missing teeth with a removable partial denture made her a happy lady at a minimal cost.
Before
After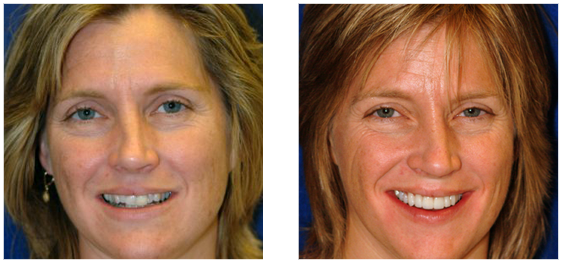 Darkened and crooked teeth took away from this beautiful woman's smile. Porcelain veneers and crowns arranged and colored to fit her face and complexion gave a wonderful enhancement.
Before
After
This retired school teacher never had great dental care and she decided that it was now or never. Taking care of decay, gum disease and restoring the discolored and broken teeth with beautiful porcelain crowns made her my friend for life.
Before
After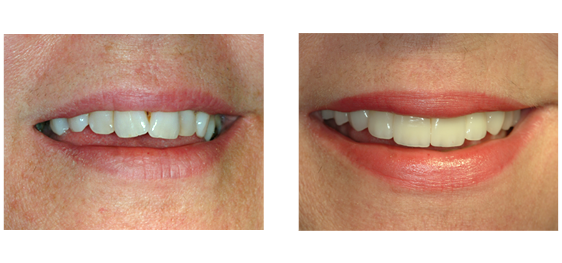 Crooked teeth that were just too grey were the main reason for enhancing this woman's teeth. Creative smile design utilizing custom porcelain colors sculpted beautifully by our artists made this patient delighted with her new appearance.
Before
After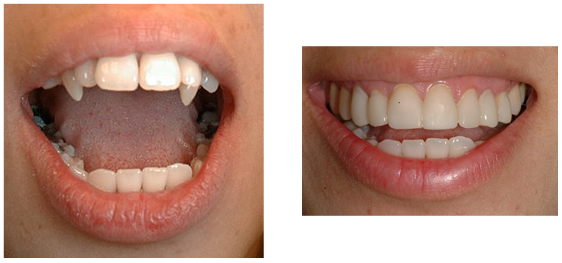 This young woman was teased throughout her childhood for her pointy and crooked "fangs". She told her story tearfully to me. Her second tearful episode was when she saw her new crowns and veneers. These were tears of joy!
Before
After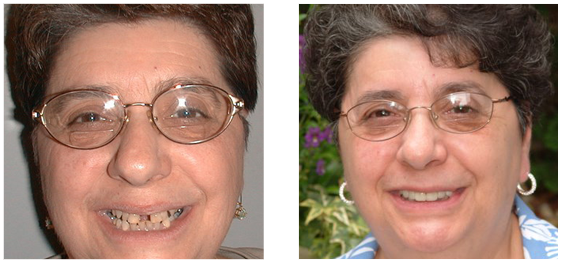 This person literally made a choice between a vacation cruise and getting her teeth fixed. She now has a beautiful smile, which is a gift that keeps on giving long after the cruise ship returned to port!
Before
After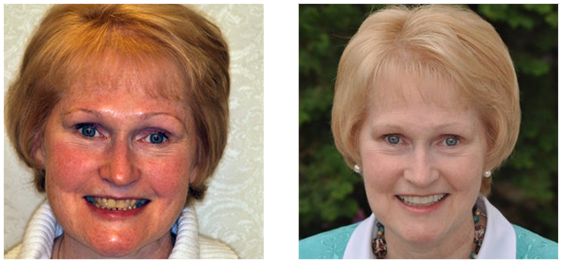 This young woman had her smile makeover to change her yellowed and dark teeth to a bright, perky and strong smile. This was present she gave to herself and one that will last a very long time.
Before
After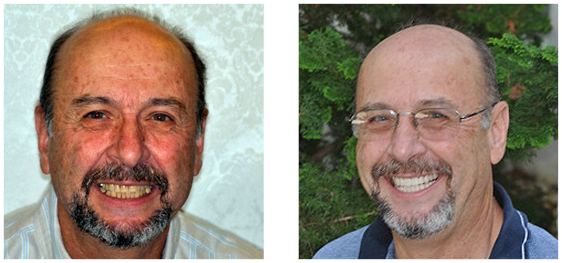 Broken missing and discolored teeth were the reason that this man had his smile redone. After curing infections and fixing decay, he had beautiful porcelain crowns and bridges to create the handsome smile that you see here.
Before
After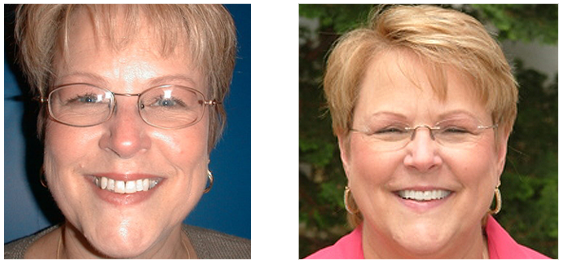 This pretty lady had a smile that hid her back teeth. The teeth were darker that she wanted and there were technical problems with her bite. Hand sculpted and tinted porcelain veneers made this remarkable improvement.
Before
After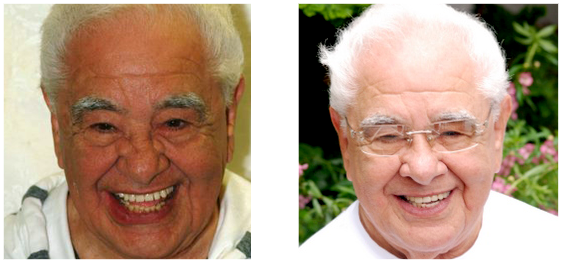 This man had a denture that wouldn't stay in place and many missing teeth on his lower jaw too. A specialized denture construction method solved his problem and a system of a partial denture with in visible hooks finished out this handsome smile.
Before
After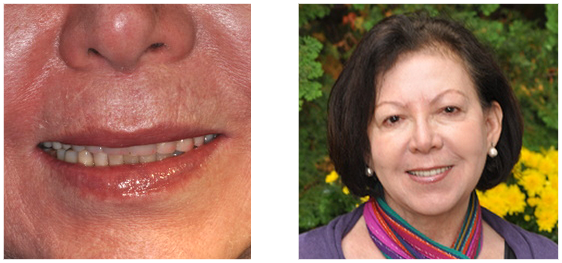 These crooked and dark teeth made this lovely woman look and feel old. Straightening out her smile and choosing a flattering color provided the beautiful smile you see here.
Before
After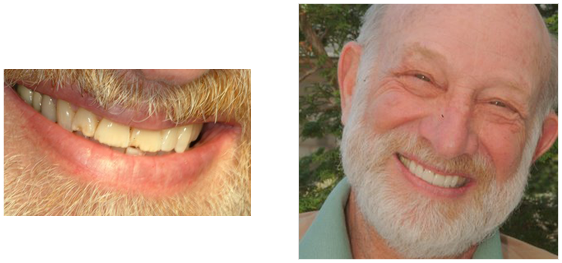 Broken teeth from a lifetime of a destructive bite plagued this man. He didn't like the color of his teeth, either. Completely rebuilding his smile and protecting his bite created this handsome smile.
Before
After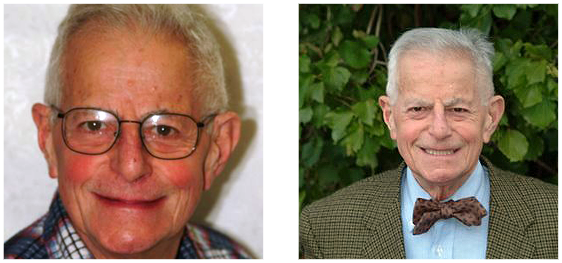 All of his adult life, this person was a tooth grinder. He wore his teeth down to nubs. Careful planning and repair of the underlying teeth followed by well-designed crowns and bridges restored his smile and his confidence, as well as his ability to eat and chew.
Before
After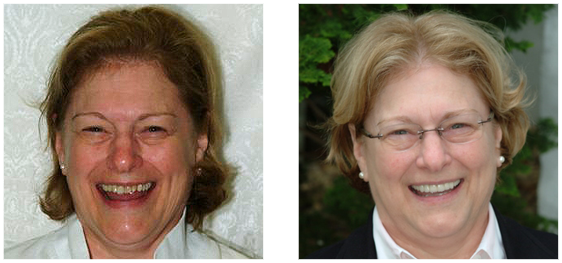 This woman hated her teeth all her life and was finally able to bring herself to have them fixed. The missing and broken and discolored teeth had prevented her from smiling and made her feel diminished about herself. Modern dentistry miracles and careful planning helped her to have the beautiful smile you see in the after photograph.
Before
After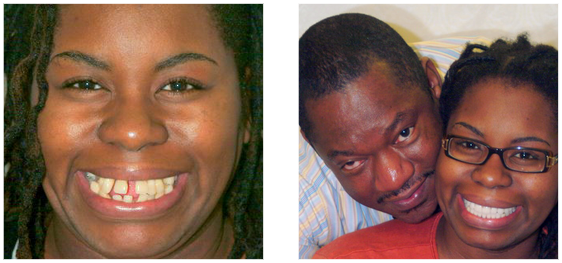 Because of severe gum disease and bone loss, this woman had to lose her teeth. The complete lifelike denture that you see has given her back her smile with comfort and confidence.
Before
After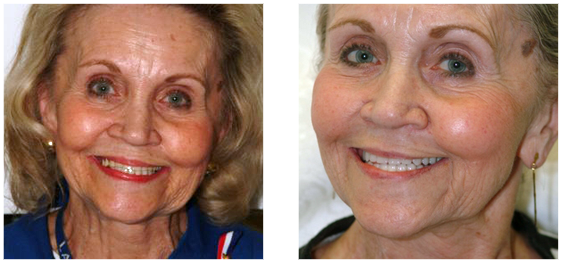 This stylish woman was so meticulous in her appearance and yet had not had the benefit of modern dental care. Correcting her dental disease and restoring her smile has made her thrilled — and I am thrilled also with the results.
Before
After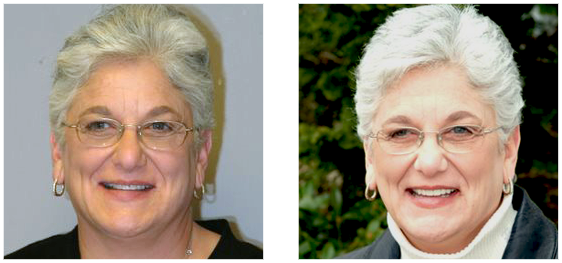 This woman always wanted a white, great smile. After getting everything healthy she was able to have the smile of her dreams, utilizing veneers and crowns.
Before
After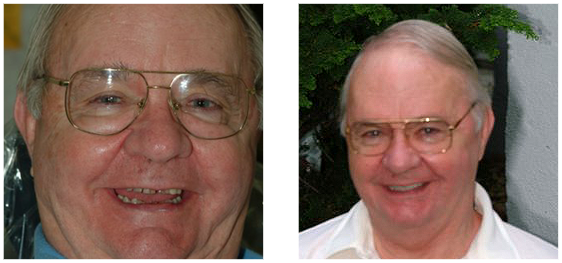 This man had not had great dental care for many years. He had missing teeth that were dark and crooked and a smile that didn't show. Getting healthy came first, and then we were able to construct a handsome smile.
Before
After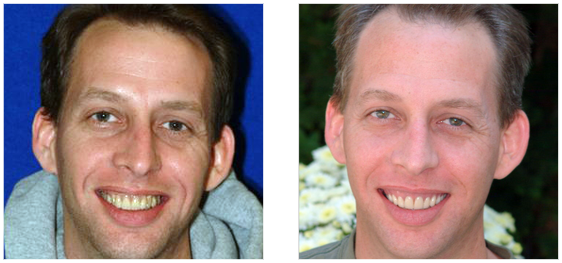 This young man had advanced periodontal (gum) disease and had to lose many teeth because of it. He has a full denture that is supported underneath by some of his teeth that were able to be made healthy. He is taking care of his mouth very well now and has a great smile to show for it.
Before
After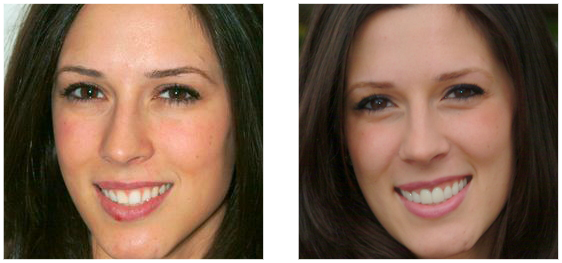 This beautiful young woman had discolored teeth from childhood and always wanted to have a white smile with straight, healthy-looking teeth. Expertly sculpted and colored porcelain veneers did the trick for her, creating a wonderful appearance.
Before
After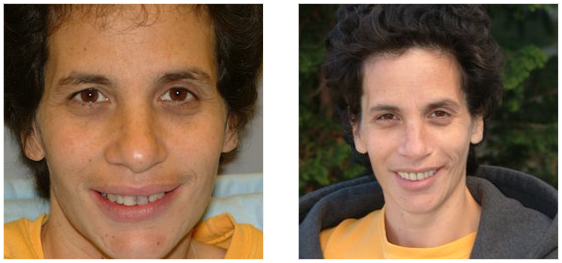 This patient had decayed, missing, grey and crooked teeth. Careful planning and treatment enabled her to transform to the beautiful smile that you see in the after photo.
Before
After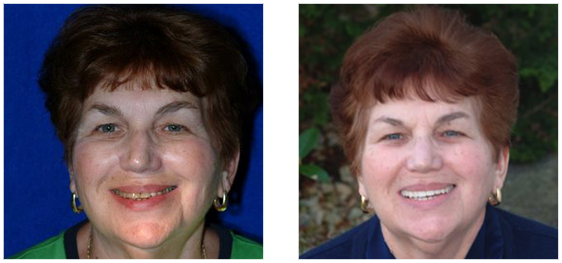 This woman hated her yellow "old looking" smile. She has not had excellent dental care for a number of years, and so she was thrilled to have her smile makeover — and says that it took years off of her appearance!
Before
After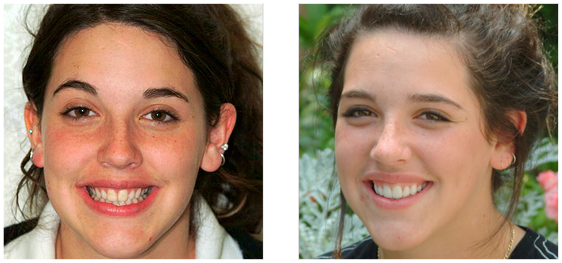 This teen had discolored and uneven teeth, even after orthodontics. Beautiful porcelain laminate veneers were used to create the smile that she always wanted.
Before
After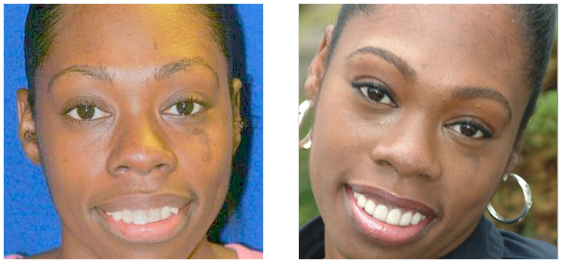 "I never liked my teeth," said this woman who wondered if anything might be done to improve her smile. Modern dentistry, careful planning and a caring team of people were able to help her to get the result that you see.
Before
After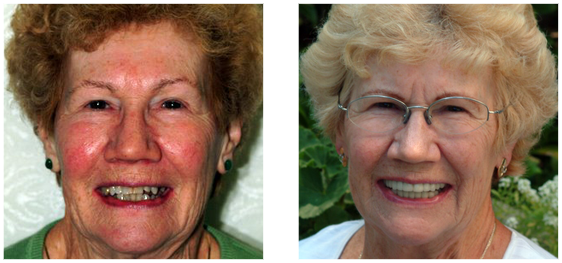 This delightful woman was always troubled by her yellowing teeth and dark appearance. The teeth were not aligned properly and made her look "old". Rebuilding her bite and her smile reinvigorated her appearance and, yes, she is still delightful.
Before
After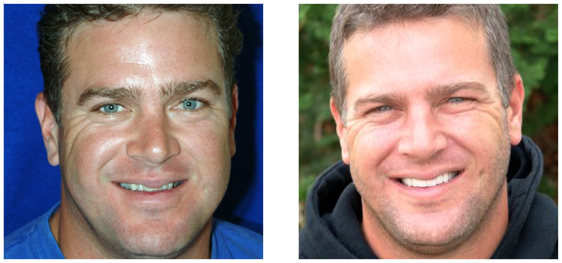 This professional athlete had chipped and discolored teeth and was referred to me by his coach. We designed his smile together and produced the handsome result that you see.