Dr. Sander I. White performs oral surgery to remove unsavable or impacted or erupted wisdom teeth. Our modern jaws often can't accommodate these large third molars, so they can become impacted in gum or bone, causing pain and pressure. Sometimes, wisdom teeth erupt through gum tissue, only to crowd other teeth and create esthetic and oral health problems.
If you require oral surgery in Broomall, we'll explain the details of your procedure, monitor you throughout your treatment, and provide attentive post-surgery care. Dr. White will use state-of-the-art techniques to perform your surgery with precision and efficiency and with your utmost comfort in mind at all times. We care about your smile and will strive to make your oral surgery experience positive and successful.
Contact us today to schedule your appointment or consultation with Dr. White, your partner in the quest for a beautiful, healthy smile. Our Broomall office delivers exemplary service and distinctive dental care to residents of Broomall, Philadelphia, Delaware County, and surrounding areas.
Wisdom Teeth Removal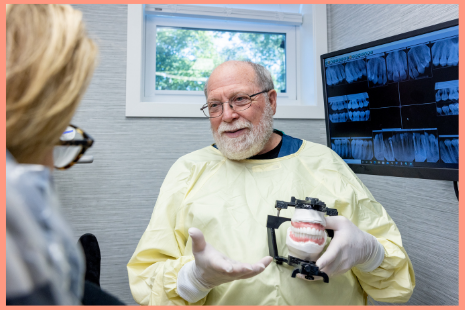 Wisdom teeth generally appear during our late teenage years or early twenties. Wisdom teeth are the final set of adult teeth that grow, but they can grow in very crooked directions. This causes them to appear in strange places and they might even push against existing teeth, causing pain and discomfort. In some cases, your wisdom teeth might be completely embedded into your gums which could potentially lead to infections and other concerning health effects.
While some people may not need to remove their wisdom teeth, it's generally recommended to do so because the sooner they are removed, the faster your mouth will heal and recover. Some people believe that they don't need to remove their wisdom teeth because it's not causing them pain now, but there's always a chance that your wisdom teeth will continue to grow and start affecting the rest of your mouth.
If you're unsure whether you need wisdom teeth removal or not, our team at Advanced Dental Concepts will be more than happy to perform a full examination to help you identify your wisdom teeth and explain if you should undergo a wisdom teeth removal procedure or not.
Periodontal Disease Treatment
Maintaining your teeth ensures that you have good oral health. However, no matter how much we brush and how carefully we watch what we eat, there are times where we might be susceptible to periodontal disease. Also known as gum disease, this is a slowly progressing disease that will eventually cause problems such as a receding gum line and sensitive teeth. These are very easy to spot because they affect the visual appearance of your teeth, and it also makes it difficult to eat and drink hot or cold things.
If it's been a while since your last checkup, then your teeth may be heavily affected by periodontal disease. In order to clean up this infection, our team will likely need to perform scaling and root planing to help you remove disease gum tissue. This process will help you ensure that your gums are healthy and will assist in keeping your teeth healthier for longer.
Emergency Dental Care
If you're ever facing a dental emergency, it's important to get help as soon as possible to ensure that you can correct the problem without long-lasting damage to your oral health. Time is a huge factor when it comes to addressing a dental emergency, and our team at Advanced Dental Concepts is more than happy to assist you.
Common dental emergencies include chipped teeth, knocked out teeth, lost fillings or crowns, or even extreme toothaches due to an infection or injury. Our team will prioritize dental emergencies to ensure that we can provide you with the best level of care as soon as possible. Simply give us a call and we'd be happy to make room for you in our schedule to respond to your dental emergency.