No one wants to think about having a dental emergency, but knowing what to do is reassuring. Dr. Sander I. White maintains a 24/7 answering service that is manned by real live people. They will contact Dr. White so that he can help you resolve your problem. Dr. White also will give you his personal contact information that you can use in the event that the answering service is insufficient. Dr. White has done this for years and is always amazed at the consideration and respect that his patients have for his personal time in using that contact information judiciously.
Here are some suggestions for common dental emergencies
Toothache
Schedule an appointment as soon as possible.
Rinse your mouth with warm water; use floss to remove food between teeth.
If there is swelling around your mouth, apply a cold compress to the area.
Do not put aspirin or other painkillers on your teeth or gums because it may burn the gum tissue.
Do not ignore a toothache; even if the pain disappears the infection may still be present.
Chipped, Broken, or Cracked Tooth
If possible, save any pieces of the broken or chipped tooth; rinse them with warm water.
Rinse your mouth with warm water.
Apply a cold compress to the area; this will help if there is welling or pain.
In the case of bleeding, apply gauze until the bleeding stops.
The more damage to the tooth and pain you experience the more severe the emergency is; contact us right away and we can help you to determine the right course of action.
Knocked out Tooth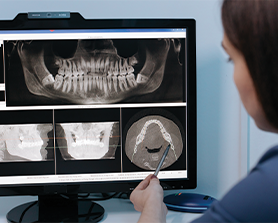 Do not touch the root; save the tooth, but hold it by the crown (the part that you can usually see).
Do not scrub the tooth; you may rinse it in warm water.
Try to place the tooth back into the socket it came from. Don't force it.
If you can't place the tooth in its socket, save the tooth in a small container of milk. It is important to keep the tooth moist at all times.
Contact a dentist as quickly as possible; the quicker you can get to a dentist the more likely the tooth will be able to be successfully returned to its socket.
Lost Filling or Crown
Contact your dentist to schedule an appointment immediately.
Dental emergencies should be taken seriously. For any of these emergencies, contact us immediately. Advanced Dental Concepts provides superior dental care to those living in and around Broomall, Pennsylvania. We'll be happy to answer your questions or schedule an emergency dental appointment for you as soon as possible!
Advanced Dental Concepts
2193 West Chester Pike
Broomall, PA 19008
Phone: (610) 624-4360