A Stable Solution to Renew Your Smile
Missing teeth can have a major impact on both the beauty and function of your smile. When teeth are missing, it can limit your ability to chew and even speak. It can also reduce your self confidence. If you've lost teeth due to decay, accident, injury, or gum disease, we can create a permanent dental bridge to restore your smile and allow you to chew the way you are supposed to.
A fixed bridge not only fills the gap in your teeth, but it also prevents adjacent teeth from shifting into the space. Bridges can correct a misaligned bite, improve chewing function and speech articulation, and provide internal support for the face to give you a more youthful appearance.
What is a Fixed Bridge?
A fixed bridge is a structure inserted permanently into your mouth to support one or more replacement teeth. It consists of an anchor on both sides of the space left by the missing tooth or teeth, and a false tooth or teeth connected to these anchors. The anchors can be either fastened to healthy teeth on either side of the gap, or can be connected to dental implants. The style of bridge we suggest will depend upon the strength and health of the anchoring teeth, as well as the location of the gap in relation to the rest of your dentition.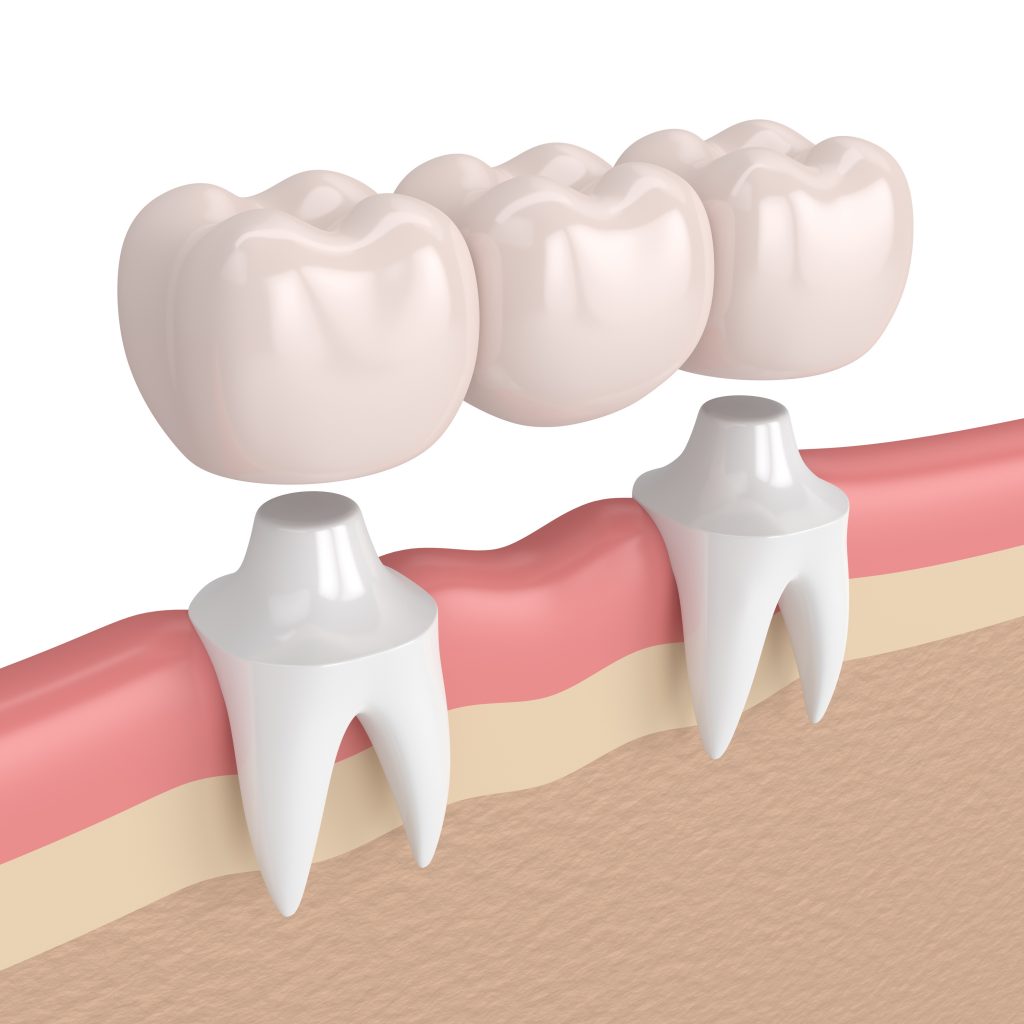 Anchored on teeth
A bridge can be fastened to a pair of dental crowns which are cemented onto the teeth on either side of the gap. These teeth, called abutment teeth, support the bridge without the need for surgical intervention and implants. This is an option in cases where there are healthy teeth to use as abutments on both sides of the gap. Dr. White will discuss available options with you.
Anchored on implants
If healthy abutment teeth aren't available, a metal post known as a dental implant may offer a solid alternative. Dental implants are surgically placed in the jaw and allowed to fuse with the bone, providing a sturdy and permanent foundation for individual crowns, bridges, or full dentures. To receive a dental implant, you must have sufficient bone mass in the area to support it; but if you do, this is a reliable and lifelong solution for missing teeth.
Pros and cons
Each of these methods has its strengths. A bridge using abutment teeth as anchors requires less invasive treatment than one that relies on dental implants. It also requires less healing time, and is a good choice in cases where there isn't enough bone to support an implant. Dental implants are ideal for cases where multiple teeth are missing. They allow bridges in cases where there are no healthy abutment teeth, or healthy teeth on only one side of the gap. Implants can also be used in place of bridges as a sturdier and natural-looking option. They do more to prevent deterioration of the bone and gums than solutions that bridge multiple teeth. The condition and placement of your teeth will determine which options are available in your case. It may also be necessary to explore other options, such as a removable partial denture or implant-supported prosthesis.
Contact us today to schedule your appointment or consultation with Dr. Sander I. White, your partner in the quest for a beautiful, healthy smile. Our Broomall office delivers exemplary service and distinctive dental care to residents of Broomall, Philadelphia, Delaware County, and surrounding areas.