Many adults will lose teeth as they get older. It would be ideal for us to keep our pearly whites for our whole life. When we have good oral hygiene, this can be enough for most, but there can be times when there are circumstances beyond our control that result in us losing our teeth. This is where implant supported dentures can be a true benefit.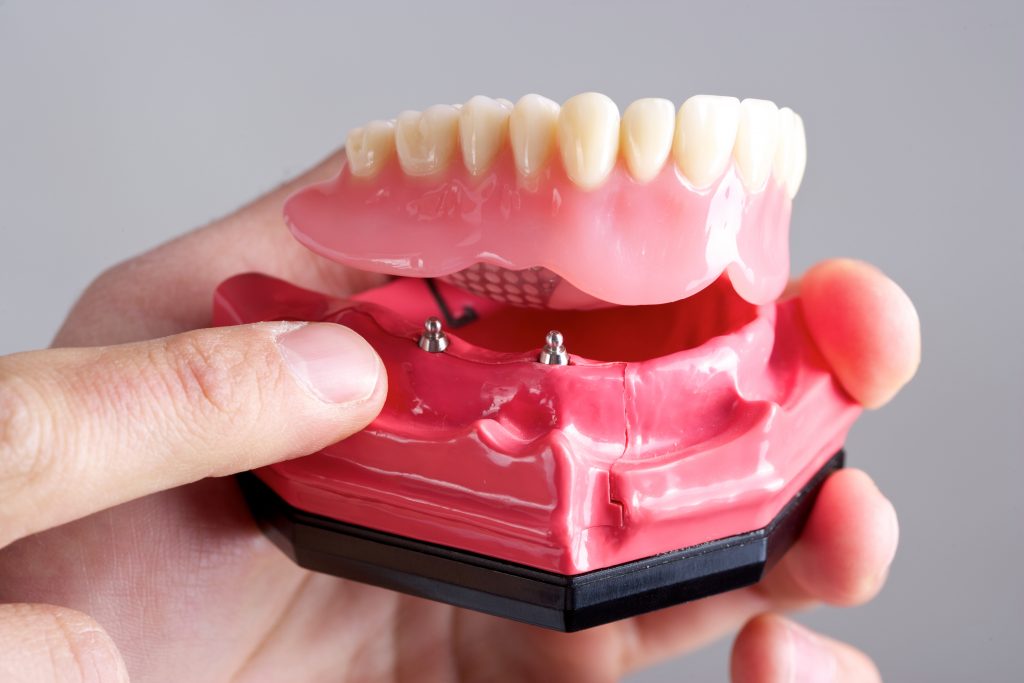 What Are Implant Supported Dentures?
Implant supported dentures add the anchoring of dental implants to supplement the stability of traditional dentures.
How Do Implant Supported Dentures Work?
Implant supported dentures are perfect for people who are experiencing instability or loose traditional dentures. For individuals who wear traditional dentures, they can prove frustrating from time to time. As traditional dentures sit on top of the gums, they can move around in the mouth, especially during eating. Using implant supported dentures rather than traditional dentures is much like giving your mouth an upgrade to provide a more solid chewing experience.
What Are the Benefits of Implant Supported Dentures?
For people who have been wearing traditional dentures, there are a multitude of benefits of implant supported dentures:
They are similar to new teeth. As implant supported dentures look and feel like healthy teeth, they are perfect for anybody that feels self-conscious wearing dentures. The molds and implants are created to suit the contours of your mouth, resulting in a perfect fit.
They will improve your chewing. Traditional dentures can result in mild impairment to chewing as they can slip during the eating process. Implant supported dentures are fixed and therefore will improve your chewing. Patients that use traditional dentures can find it frustrating that they have to almost relearn how to eat with dentures. Implant supported dentures can feel more like normal teeth and allow you to eat normally.
They are great for your self-confidence. Arguably, the most important reason for having implant supported dentures is that you can maintain your winning smile. Wearing dentures can cause frustration if they slip during a conversation, which may undermine your confidence. Because implant supported dentures are fixed, you can open your mouth as wide as you want!
Many people find that going from traditional dentures to implant supported dentures make a big difference in their quality of life. As you can see, the above reasons are plenty to inquire about implant supported dentures.
Are Implant Supported Dentures Right for You?
For anybody that is wondering if this is the right approach for you, it depends on if you have a few missing teeth, or if you wear traditional full dentures. Dr. Sander I. White will evaluate your circumstances and will advise you of all reasonable options and help you choose what suits you best.
What Is the Process of Preparing for Implant Supported Dentures?
If you are considering having implant supported dentures or you are looking for a change to your existing dentures, Dr. White and the team will have an initial consultation with you. This will take into account your current teeth and dentures. Once this is done, our team will carry out a dental exam as well as take x-rays to make sure that your jawline is able to support the implant supported dentures. Once all of the preliminary exams are complete, we are able to recommend the appropriate method. Our team will then take a series of molds or impressions to ensure that the dentures fit appropriately. We will work with our implant team of surgeons, artists, and technicians to plan and fabricate everything you need.
Is It Time to Schedule an Appointment with Us?
You can rest assured that Dr. White and the team will do everything they can to provide you with all of the available options. Our experienced team has built a practice focused on personalized care. When you are looking to make significant changes to your oral health by getting new dentures or having implant supported dentures, whatever you decide on you can guarantee that we will do our utmost to make sure that you get expertise on a very personal level.
Whether you have been considering making the upgrade to the latest denture technology or you want to explore your options, schedule an appointment for a consultation with Dr. White who can prepare you with everything you need to know. Nobody likes having missing teeth or getting frustrated when they have dentures that don't suit their mouth, and implant supported dentures may very well be the answer you are looking for.