No matter what your age, it's never too early to start planning for the future. Establishing a good dental hygiene routine and receiving good dental care now will help you to maintain a healthy smile throughout your life. Dr. Sander White is dedicated to helping his patients of all ages keep their teeth strong, healthy, and beautiful for a lifetime.
A Healthy Smile for Life
Planning for Your Long Term Dental Health
A good long-term dentist can help you establish the right habits to allow your teeth to stay strong and bright. Here are a few things Dr. White does to help patients ensure a lifetime of healthy teeth.
Focus on Prevention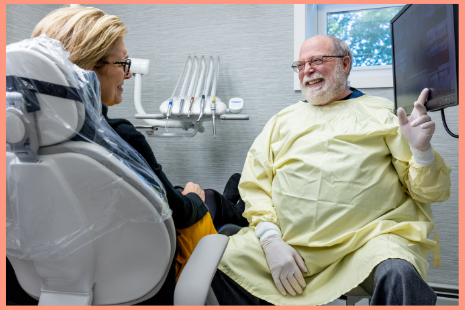 It's a lot easier to maintain a healthy mouth later in life if you start preventive care early. This includes keeping up on daily dental hygiene habits including brushing and flossing as well as coming in every six months for a checkup and cleaning. Dr. White will use these visits to keep tartar buildup under control, catch cavities before they endanger the tooth, and to check adults for early signs of oral cancer. He'll also answer your questions about proper hygiene and encourage you to keep up your habits.
Keep Your Gums Healthy
One of the most important ways to keep your teeth healthy is to tend to your gums. Gum disease is the most common cause of tooth loss and it can happen to anyone. Dr. White will identify and treat gum infections before they start to diminish the bone and soft tissues that hold your teeth securely. If necessary, he can also recommend the best periodontists nearby to help reverse more advanced infections.
Quality Restorative Treatments
It's impossible to avoid all cavities, injuries, and wear on your teeth over time. When you do have work done, it's important that your restorations are done correctly so they will last. Dr. White pays great attention to detail so you won't have to have a filling or cap replaced before you should.
Returning your Smile to Its Best
If you're already seeing signs of age in your smile, or it's not as healthy as you'd like it, Dr. White has the technology and skill to make your smile look young again. Whether you have stained, chipped, crooked, or worn teeth, Dr. White has the cosmetic dentistry procedures to give you an attractive, natural-looking smile.
If you have lost teeth, Dr. White has several options to replace them. If you're interested in dental implants he will use a team approach including the best dental implant specialists in the area to give you a whole smile again, whether you need a single tooth replaced or an entire arch. You're prosthetic teeth can look and function as well or better than your own natural teeth did. Learn more about dental implants.
The bottom line is, whether you're 20, 50, 75 or 100, there's no reason you shouldn't have a full, healthy smile. Dr. White and his team of professionals can help you every step of the way. Contact us today to discuss your long term plan for your smile. Dr. White is a general and cosmetic dentist serving Broomall, PA and the surrounding area. His patients come from all over the area including Philadelphia and throughout Delaware County.