When you're looking for a dentist to help you perfect your smile, there are many who will promise you the world. Unfortunately, not every dental professional has taken the time to hone their cosmetic dentistry skills. Here are a few things every patient should look for when searching for a cosmetic dentist, and how Dr. Sander White can help.
How To Choose A Cosmetic Dentist
A Dedication to Education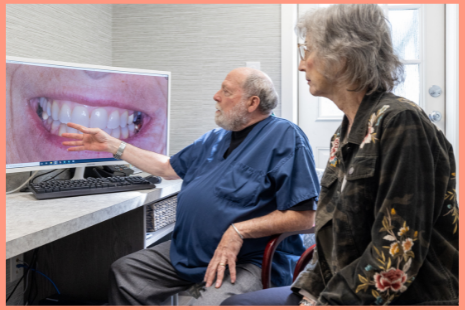 During dental school, prospective dentists are given the opportunity to learn different aspects of dentistry. However, to truly become an excellent cosmetic dentist, you have to spend years learning artistic skills and honing your craft. For this reason, a dedication to continuing education is an important thing to look for as you shop around for cosmetic dentists. For example, Dr. Sander White has taken more than 2,000 hours of continuing education since he became a dentist 35 years ago. This additional training has given him a unique perspective on the complicated tasks involved with restoring damaged smiles.
A Smile Gallery
As they say, a picture is worth a thousand words. As you shop around for a cosmetic dentist, ask if they have a smile gallery either online or in their office. These galleries typically consist of before and after pictures that show different patients' journeys through their dental care. As you browse through these images, think of questions to ask the dentist such as "How long did the dental transformations take?" and "What procedures were used to correct the issues?"
Dr. Sander White is proud of the work that he has done over the years to help people with their smiles, which is why our website has an extensive smile gallery. Feel free to have a look to see how Dr. White can transform your smile.
Advanced Procedures
Dental technology is ever-evolving, and some professionals simply don't keep up. Unfortunately, this can keep patients from enjoying the advantages the newest technologies and techniques. Here are just a few examples of the latest technology used here at Advanced Dental Concepts.
Rapid Teeth Straightening: Who says you have to wear braces for 2 years? Here at Advanced Dental Concepts, you can enjoy straighter teeth in as little as six months. Our office uses the Six Month Smiles system, which consist of clear wires, gentle movements, and a focus on the teeth that show when you smile.
Teeth Whitening: Everyone has different time commitments, which is why we believe that teeth whitening should be tailored for each patient. In addition to our advanced Zoom Whitening sessions, we also offer take-home whitening kits for patients who prefer to whiten in the comfort of their own homes.
Smile Previews: Using advanced digital imaging software, Dr. White can show you exactly how your smile will look after a procedure before any work is done. This is an invaluable way to plan your treatments and end up with the beautiful smile you want.
Better Payment Options
In addition to offering dedicated professionals, a history of success, and all of the latest technology, it's important to have flexible payment options, since many dental insurance plans don't cover cosmetic dentistry. Find out if the practice is willing to create payment plans. Do they work with CareCredit, which allows patients to pay off their dental bills over time. At Advanced Dental Concepts, we will do everything we can to help simplify payment to allow you to receive the cosmetic dental services you want and need.
For more information about our cosmetic services or to schedule an appointment, contact us at Advanced Dental Concepts in Broomall, PA today.